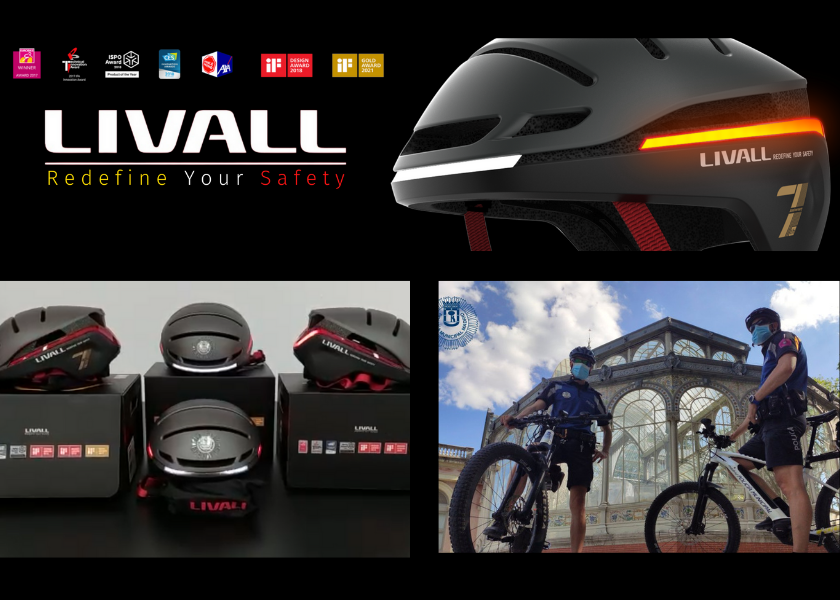 TO PROTECT AND SERVE; THE EVO 21 SMART HELMET
LIVALL Europe and the Madrid Municipal Police have closed an important agreement to provide smart helmets to the bike-patrols of the Environment Unit of the Spanish capital.
In this way, Ayuntamiento de Madrid continues its quest towards the model of interconnected and augmented cities through digital technology, redefining the way of understanding basic concepts such as mobility in traffic, the integration of the different road users, sustainability and accident prevention.
This is one of the differentiating elements of the LIVALL smart helmet: unlike the traditional helmet, which is a merely passive element that protects from impact, the smart helmet seeks to anticipate the accident so that it does not occur. 
EVO 21, the helmet chosen by the Madrid Police, offers a series of benefits that clearly differentiate it from a conventional helmet:
Visibility: 360 degrees of intelligent lights, including automatic position indicators in low-light conditions, as well as brake lights. The officer can also signal a change of direction through handlebar-controlled turn signals, eliminating the need to raise a hand to indicate a turn.
SOS system: in the event of an accident, if the agent becomes unconscious or unable to move, the helmet automatically emits an SOS signal and sends its position to the switchboard for rapid assistance.
It doesn't hurt that it looks sleek (winner of the Gold iF DESIGN  Award, the Oscars of product design).
Find more about LIVALL and EVO 21 on our link bellow and don't forget to follow us to keep up with the latest and greatest from LIVALL's smart technology.