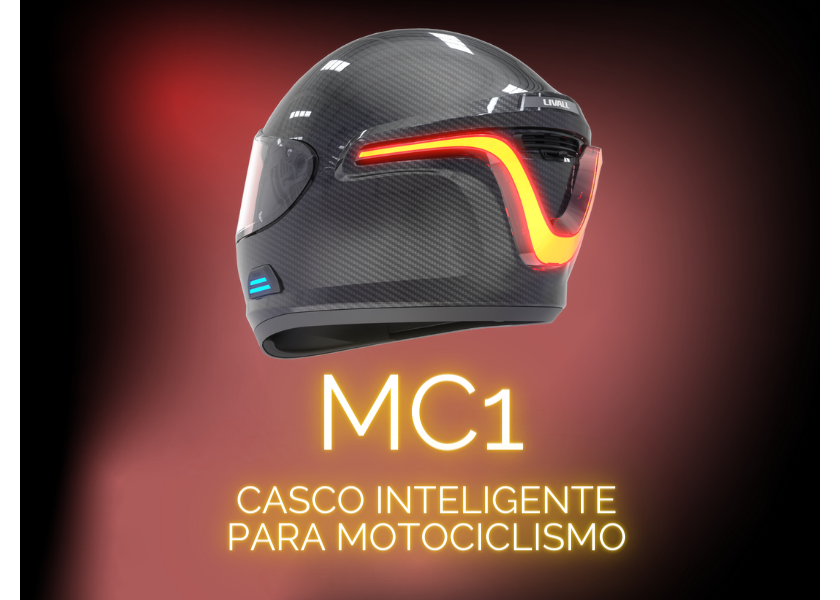 LIVALL presentsMC1, the smart motorcycle helmet with Spanish DNA.
The new helmet combines cutting-edge preventive safety technology, ultralight materials and a spectacular design made in Spain.
The MC1 PRO is made of carbon fiber and EPS (expanded polystyrene), or the MC1 model of fiberglass and EPS, providing, at 1,400 grams, great lightness, a state-of-the-art level of thermal and acoustic insulation, and a design streamlined and futuristic.
The intelligent lighting system with 360-degree visibility alerts other road users of the user's position, change of direction or braking, helping to prevent collisions. A Bluetooth communication system (up to a distance of 1,200 meters with the walkie talkie) with stereo speakers, high fidelity microphone and wind noise reduction, helps prevent accidents by providing access to traffic information, weather and GPS navigation.
It also has an autonomous SOS system with accident detection technology that, in the event of a fall, its sensors detect it. After 90 seconds of inactivity, MC1 sends a distress message with the position of the injured person via GPS to the contacts or emergency services preset by the user in the application.
In addition, the MC1 PRO has a 4K high definition front camera, with which the user can record up to 32 GB of video (more than 60 hours of travel), which in the event of an accident can record the event and help settle the dispute with the insurance companies to clear up the accident.