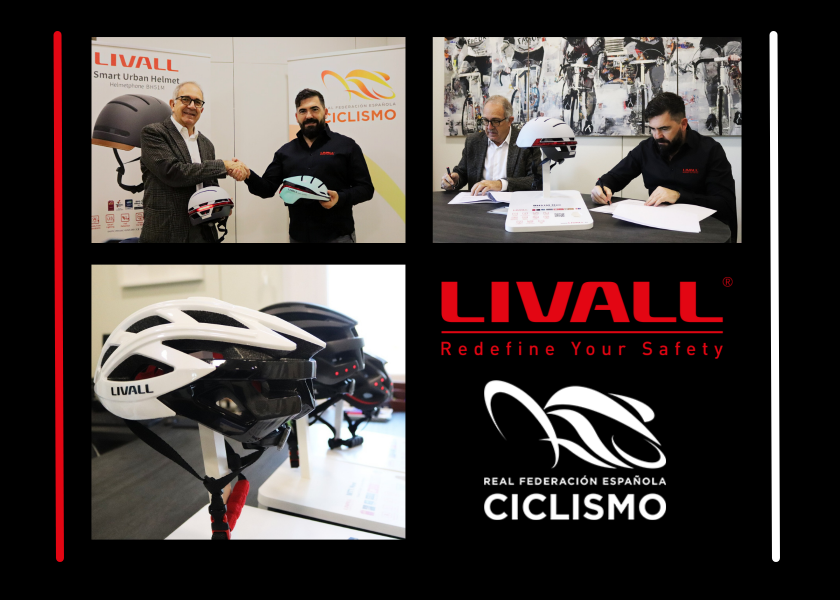 LIVALL AND ROYAL SPANISH CYCLING FEDERATION AGREEMENT
LIVALL and the Spanish Cycling Federation have reached a collaboration agreement that includes several measures, including a one-year subscription to RFECs cycling card through the purchase of a LIVALL helmet and  the promotion of various social projects.
LIVALL, a firm dedicated to mobility safety  and specialized in the development of smart helmets, and the Royal Spanish Cycling Federation, have signed a collaboration agreement whereby the company created in 2014 joins the highest national cycling institution as an official collaborator.
Thanks to this agreement, those who purchase a LIVALL helmet through our website will obtain a subscription to the Federation's cycling license for a period of one year. This license includes civil liability insurance with coverage of up to €150,000, as well as legal defense and legal advice in the event of an accident.
The agreement will provide the Federation with LIVALL smart helmets for several of its social projects such as "Women in Bike". On the other hand, users of the RFEC federation license and the cycling card will have a 15% discount on products from the RFEC VIP club, in addition to having the option of participating in a multitude of product raffles throughout the year.
José Luis López Cerrón, president of the RFEC and Manu Marin, CEO of LIVAALL Europe signed the agreement with the expectation that it will contribute to safer cycling and speeding up the transition towards the new mobility in the cities of the future.