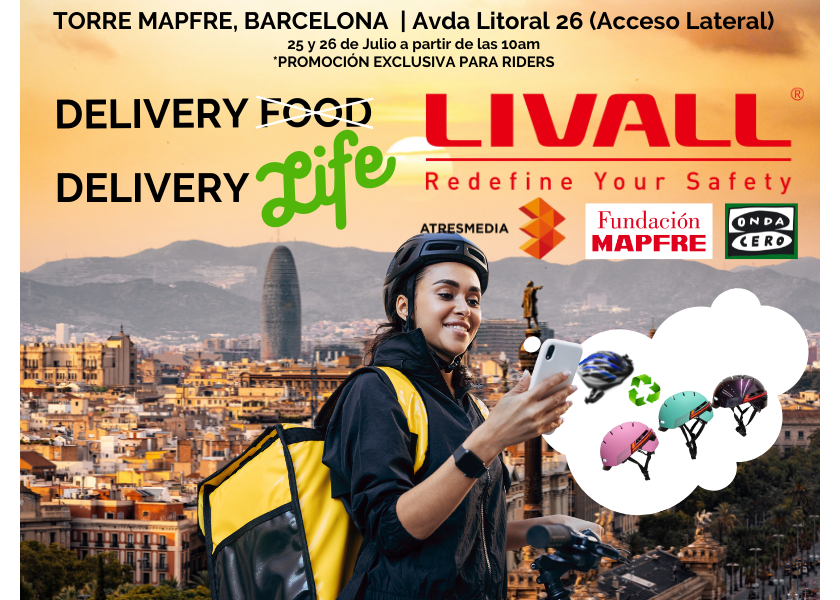 DELIVERY LIFE MOVES TO BARCELONA TO CONTINUE IMPROVING RIDER SAFETY, FOR FREE
After an incredible reception in Madrid, where close to 800 smart helmets (nearly 300 up from our initial 500 pledge) were donated to food delivery riders in exchange for their old helmets (which in turn will be given a second life as donations in markets where LIVALL still does not have a pressence), we are proud to say the first stage of this campaign with solidarity and sustainability at its core has been a resounding success.
We want again to thank our fantastic team and everyone involved, from Talent Garden Madrid to ONDA CEROand Riders España, and also a shoutout to the Ministerio de Transportes, Movilidad y Agenda Urbana, who were kind enough to offer a space for the farewell event.
For LIVALL, this is only the beginning. The Delivery LIFE bus is already making tours around Barcelona, ​​where stage 2 of this massive upgrade of security devices for the rider community will take place on the 25th and 26th of June at Torre MAPFRE.
Fundación MAPFRE has been very kind in supporting our event by offering their hall at their famous Barcelona Venue for the donation and recycling of the helmets. Big Thank You!
This campaign is one of our favorites so far and the results have been dramatic. You cant´walk for more than 2 minutes in Madrid without spotting a rider whose safety has been improved with our preemtive technology. Now it´s Barcelona´s turn. Stay tuned for more!